11 min read
Unlocking the Power of Xero Accounting Software
Enzo : July 05, 2023
For small businesses, accounting software is a must-have for managing financial data efficiently. In this blog post, we will delve into the details of Xero Accounting Software and its features such as pricing plans, bank account reconciliation, inventory management, purchase orders creation and expenses claims as well as how it integrates with third-party apps. We'll discuss its pricing plans, features such as bank account reconciliation, inventory management, purchase orders creation and expenses claims. Additionally, we'll explore how Xero integrates with third-party apps to help streamline your workflow.
---
What is Xero?
Are you a small business owner weary of wrestling with QuickBooks or perhaps seeking out accounting software for the first time? Allow us to introduce you to Xero - your new accounting best friend. Xero is a cloud-based accounting platform designed with small to medium-sized businesses in mind.
Fed up with the clunky, time-consuming processes of traditional accounting systems? Xero brings a breath of fresh air to the scene with its user-friendly interface, powerful automation, and real-time financial insights.
Picture having 24/7 access to a system that seamlessly keeps tabs on your financial comings and goings, and delivers the insights you need, exactly when you need them. That's Xero - an innovative, streamlined solution to help you navigate the financial seas of your business with grace and ease.
How does Xero work?
Xero operates as a cloud-based accounting software, designed to simplify financial tasks for small to medium-sized businesses. Upon logging in, you're greeted with a dashboard that provides a real-time overview of your financial status, from bank balances to invoices and bills. It's like having a daily financial report at your fingertips!
The magic of Xero lies in its automation. You can easily create, customize, and send invoices, with Xero tracking their status. Bank transactions are directly imported and reconciled smartly against your invoices and purchases, significantly reducing manual labor. With Xero, the intricacies of accounting are translated into streamlined, user-friendly processes, making financial management more accessible and less time-consuming.
How can Xero help run your small business?
Xero's innovative features can significantly streamline your small business's operations. Let's explore how:
Financial Overview: Xero's dashboard provides a real-time snapshot of your financial health. You can easily monitor cash flow, pending invoices, and upcoming bills, enabling you to make informed business decisions.

Invoicing: Xero simplifies the invoicing process. Create and send customized invoices, track when they're opened by clients, and get paid faster. This feature keeps your revenue cycle efficient and transparent.

Bank Reconciliation: By automatically importing transactions from your bank account and matching them to invoices and purchases, Xero makes bank reconciliation a breeze. This reduces manual errors and saves valuable time.

Expense Tracking: Xero allows you to manage and track business expenses with ease. You can monitor spending, manage reimbursements, and keep an eye on your bottom line.

Integrated Payroll: Xero's integrated seamlessly with Gusto, which helps manage employee payments, tax calculations, and time-off accruals. Gusto ensures compliance with tax regulations, while Xero keeps track of who you've paid throughout the year.

Mobile Access: With Xero, your financial data is at your fingertips, anytime, anywhere. This allows you to manage your business on the go, providing flexibility and convenience.

Third-Party Integrations: Xero integrates with a host of other business tools and applications, providing a comprehensive business management solution. Whether you need help with inventory, time tracking, or project management, Xero has you covered.

Secure Data Storage: Xero provides secure cloud storage, ensuring your financial data is safe. You don't have to worry about data loss due to computer crashes or disasters.
In a nutshell, Xero provides a one-stop solution for managing your small business's finances. It simplifies complex accounting tasks, saves time, and provides valuable insights, ultimately helping you run your business more effectively.
What Types of Businesses Use Xero?
From bustling coffee shops to tech startups, businesses across a wide range of industries turn to Xero for their accounting needs.
Here's a snapshot of the types of businesses that can benefit from Xero's features:
Retail Businesses: Xero's inventory tracking, sales reports, and integration with point of sale systems make it an excellent choice for retail businesses. Whether you're running a brick-and-mortar store or an e-commerce platform, Xero can keep your sales and inventory in sync.

Service-Based Businesses: Freelancers, consultants, and other service-based businesses can leverage Xero's invoicing, time tracking, and project management features to streamline their operations.

Nonprofits: Xero's robust reporting capabilities and budgeting tools can help nonprofits manage their funds effectively.

Restaurants and Cafés: Xero's compatibility with POS systems, along with its payroll and inventory management features, make it a helpful tool for the hospitality industry.

Construction and Real Estate: Businesses in the construction and real estate sectors can use Xero's project tracking and job costing features to manage their finances and profitability.

Startups: Xero's scalable solution is perfect for startups. Its user-friendly interface, budgeting tools, and financial reporting can support a business's growth from infancy to maturity.

Professional Service Firms: Law firms, marketing agencies, accounting firms, and other professional service businesses can benefit from Xero's time tracking, invoicing, and project management features.
In essence, Xero's versatility and comprehensive features make it a valuable tool for businesses across a myriad of industries. Whether you're selling products, offering services, or even running a not-for-profit organization, Xero can help you keep your financial house in order.
How does Xero rank amongst it's competitors?
In the world of accounting software, Xero certainly holds its own. While it's challenging to crown a definitive champion given the unique needs of different businesses, we can certainly assess how Xero stacks up against its competitors.
Xero vs QuickBooks Online: QuickBooks Online has long been a popular choice for small businesses. However, Xero's user-friendly interface, unlimited users in all plans, and robust automation capabilities often make it a preferred alternative. Xero's integration with over 800 business apps also outshines QuickBooks Online's offerings.
Xero vs FreshBooks: FreshBooks is praised for its superb invoicing features, but Xero takes the cake in terms of comprehensive accounting tools. Xero's ability to handle accrual accounting, double-entry accounting, and its feature-rich inventory tracking give it an edge over FreshBooks for businesses that need these capabilities.
Xero vs Sage: Sage has a solid reputation in the accounting field, particularly for larger businesses. However, for small to medium-sized businesses, Xero's easy-to-use platform, transparent pricing, and superior cloud integration can make it a more attractive choice.
Xero vs Zoho Books: Both platforms offer a great range of features, but Xero's ability to scale with a business as it grows makes it a strong competitor. Additionally, Xero's extensive app integrations and more advanced payroll features give it a competitive edge.
Xero consistently ranks high among its competitors thanks to its intuitive interface, comprehensive feature set, and scalable solutions. It's an all-around contender, adept at meeting a wide range of business needs.
Ready to take a look under the hood?
Xero's Accounting Dashboard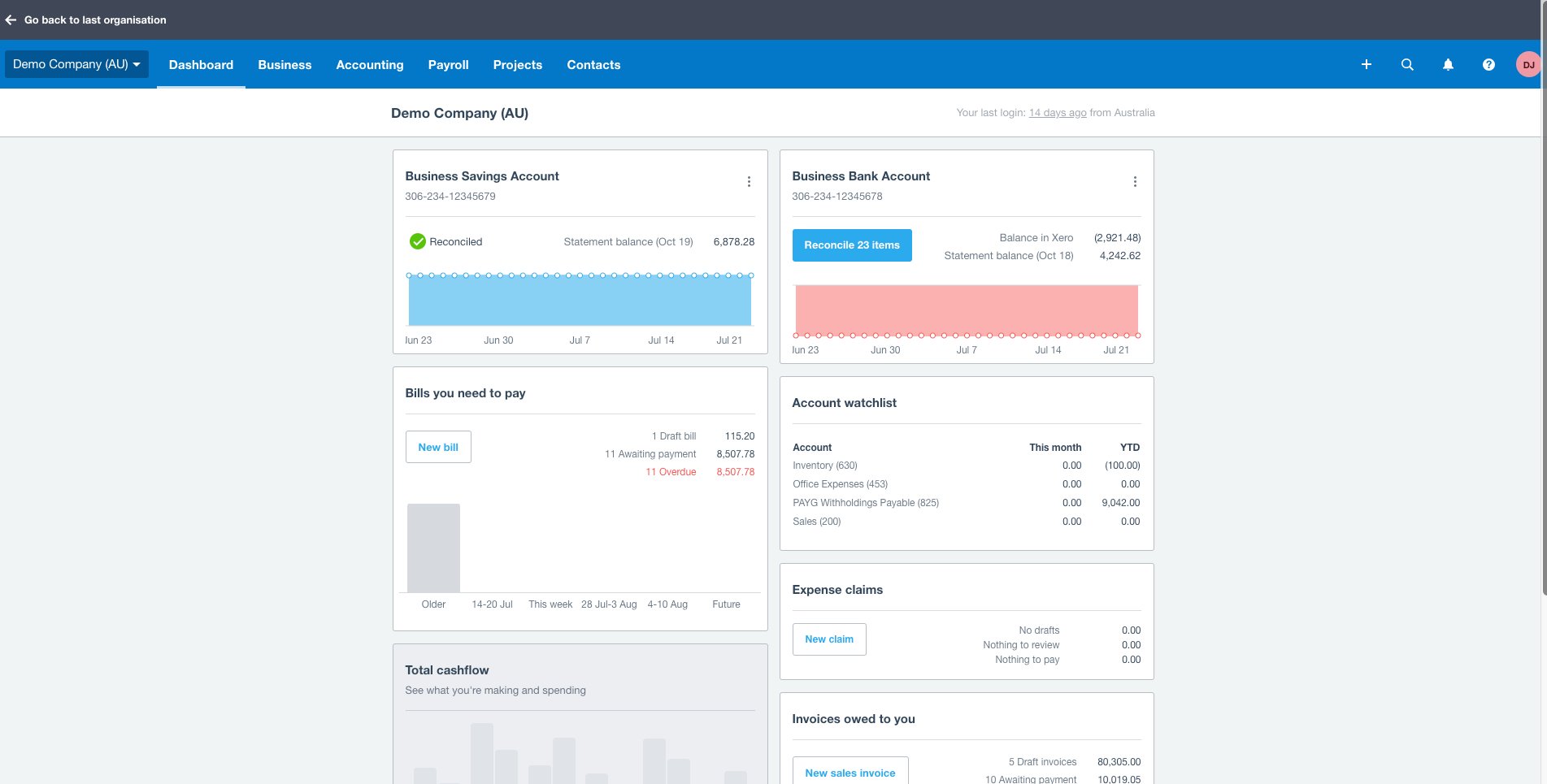 Xero's Accounting Dashboard is a powerful tool for businesses of all sizes. The Dashboard grants real-time financial info, helping you make well-informed choices about your business's development and profitability. With the Accounting Dashboard, you can quickly get a comprehensive overview of your business's financial performance and make informed decisions about how to allocate resources for optimal growth. This dashboard makes it possible to rapidly pinpoint areas that need improvement or where extra resources should be assigned.
The dashboard also offers insights into cash flow management by providing up-to-date information on accounts receivable and payable. This enables the prompt dispatch of invoices to ensure timely receipt of payments. Additionally, Xero's dashboards provide detailed reports on tax liabilities and compliance with government regulations which ensures accurate filing of taxes each year without any costly errors or penalties from the IRS.
Using Xero's Accounting Dashboard will help improve decision making when it comes to managing finances for small businesses owners who want to maximize their profits while minimizing costs associated with hiring an accountant or bookkeeper. The dashboard also makes it easier to keep track of employee payroll information including wages, bonuses, vacation payouts and more in one convenient location - saving time spent manually entering data into separate systems or software programs.
Xero's Accounting Dashboard offers a straightforward, user-friendly interface that simplifies handling business finances. With Xero, you can quickly generate invoices for customers and keep track of payments - a great way to streamline your accounting process. Take a peek at how you can employ Xero for creating invoices.
The Idea: Xero's Accounting Dashboard provides a powerful, real-time financial information solution for companies of all sizes to utilize in making informed decisions. It also helps with cash flow management, tax compliance and payroll administration - simplifying the process for small business owners looking to maximize their profits while minimizing costs associated with hiring an accountant or bookkeeper.

Invoicing with Xero
Invoicing with Xero is a powerful tool for small business owners. It allows them to quickly and easily create custom invoices, set automatic payment reminders, and accept online payments. This helps streamline the entire process of billing customers and getting paid faster, which can help improve cash flow.
Customizable templates are available in Xero so you can create an invoice that fits your company's branding. You also have the option to add terms & conditions or notes about discounts or late fees on each invoice as needed. Once an invoice is out, Xero allows for automated payment notifications to be configured if the amount due remains unpaid after a certain duration - thus eliminating the need for manually sending reminders.
Xero also offers several different online payment options for your customers including credit cards and ACHy. These methods make it easier for customers to pay their invoices quickly without having to mail checks or wait until they're in person at your office location. Plus they get added security knowing their information is safe when using these secure payment processors.
Faster payments processing means improved cash flow for businesses - no more waiting weeks or months before being able to use money from customer invoices. With Xero's integrated system it's easy to track when payments come in so you know exactly how much money is coming into your business each month without having to manually check every single invoice status individually like some other accounting software requires.
Need a way to automatically collect on past due invoices? Check out our blog: Never Miss a Payment with Xero's Automatic Invoice Reminders.
The Idea: Xero's invoicing system provides small businesses with an easy way to create custom invoices, set automatic payment reminders and accept online payments. This ensures that customers can pay quickly and securely, improving cash flow for the business while offering useful reporting tools so owners can keep track of their finances in real time.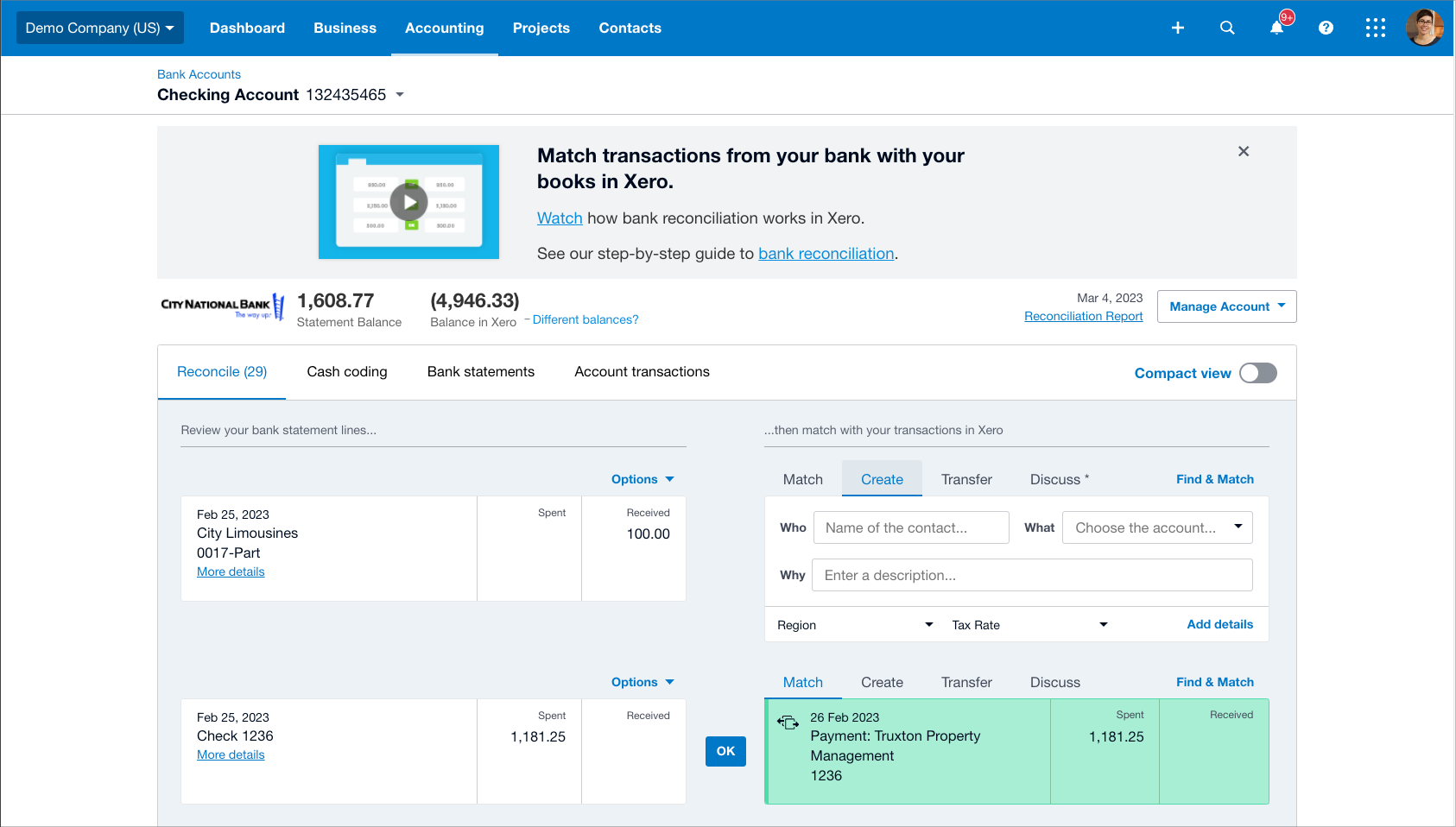 Powerful Bank Connections
Powerful bank connections are essential for any small business looking to streamline their accounting processes. Xero's direct bank integration allows businesses to connect their accounts directly with the software, eliminating the need for manual data entry and saving time and money in the process. Automatic transaction import and categorization make it easy to keep track of expenses, income, assets, liabilities, and more. This helps reduce errors caused by manual input while providing an accurate picture of your financial health at a glance.
Xero also offers powerful multi-currency support so you can easily manage transactions across multiple currencies without having to manually convert them into one currency each time you enter a transaction or generate a report. Xero enables you to configure various accounts with varying currencies, so that when transactions are imported from banks or connected services like PayPal and Stripe, they're automatically converted. Xero's multi-currency support makes it simpler than ever to monitor foreign exchange rates and keep track of finances regardless of origin.
Powerful bank connections allow for quick and easy reconciliation of transactions, saving time and money. Moving on to the next heading, Easy Expense Management provides an efficient way to track expenses while keeping your business finances organized.
The Idea: Xero's powerful bank connections, multi-currency support and collaboration features provide businesses with an efficient accounting system that can be tailored to their individual needs. Streamline your financial processes with Xero's automated transaction import, categorization and real-time reporting capabilities for a fraction of the cost of an in-house accountant.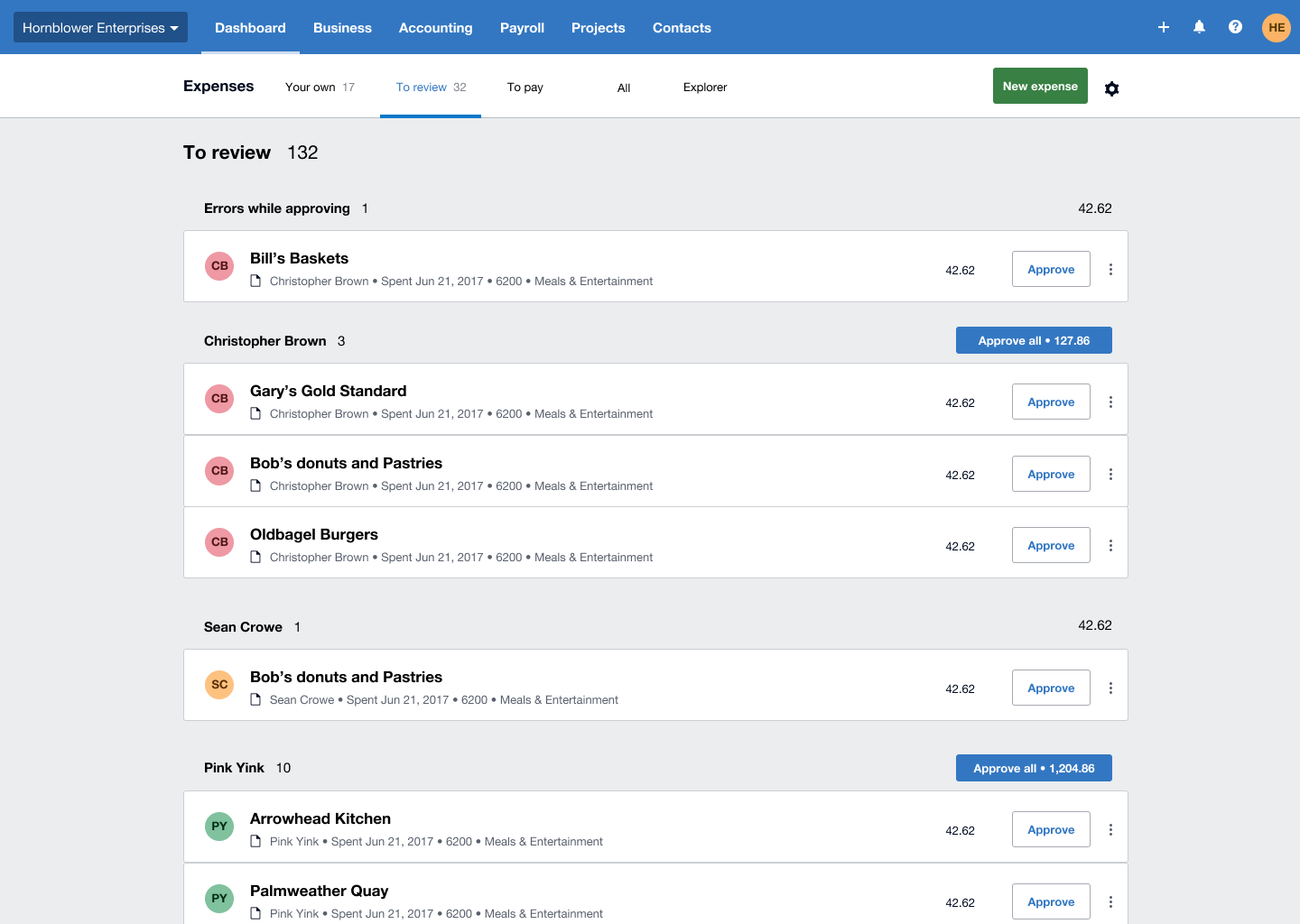 Easy Expense Management
Managing outgoings is an essential part of having a flourishing business. With Xero's easy expense management, you can quickly and accurately track all your costs with minimal effort. Xero allows you to categorize your expenses into custom categories, so you can easily identify cost-saving opportunities. It also offers powerful bank connections that enable you to automatically import transactions from your linked accounts, making it easier to keep up with payments and receipts. Cash flow oversight is now simpler than ever, granting you greater command over your company's financial standing.
Managing expenses is essential for any business, and Xero Accounting Software makes it easier than ever with its easy expense management feature. Xero Accounting Software's multi-currency support enables you to effortlessly manage finances in multiple currencies, without the hassle of exchange rates or other complexities.
Multi-Currency Support
For businesses looking to expand internationally, Xero's multi-currency support is a game changer. Xero's multi-currency capacity furnishes businesses with the opportunity to effortlessly collaborate with foreign partners and purchasers. Xero facilitates the capability to dispatch bills in any currency you necessitate, and also convert balances into your local currency for account reconciliation. You can even set up different bank accounts for each currency if needed.
Xero's multi-currency support helps streamline international operations by providing automatic exchange rate updates so that you always have the most accurate information available when processing payments or issuing invoices. Additionally, Xero will track gains and losses from foreign exchange fluctuations so that your business remains compliant with financial regulations around the world.
Xero's platform provides a view of the movement of funds between countries, allowing users to gain greater understanding into their money flow and overall fiscal well-being across borders. Plus, since all data is stored securely within Xero's cloud servers, you don't have to worry about security breaches or other risks associated with managing sensitive information overseas.
Xero's powerful features and intuitive interface make it easy for small business owners who are expanding globally to stay organized while maintaining compliance across multiple jurisdictions, without having to hire a dedicated accounting team.
Multi-currency capacity enables companies to manage finances across international boundaries, simplifying the process. Now let's explore how Xero Accounting Software facilitates collaboration and app integrations for a more efficient business workflow.
Collaboration and App Integrations
Xero's collaboration and app integrations offer powerful tools for businesses to streamline processes, enhance productivity, and increase their bottom line. With easy collaboration with accountants, bookkeepers, and team members you can easily share data between multiple parties without having to worry about manual transfers or file compatibility issues.
Collaboration and app integrations make Xero Accounting Software a powerful tool for small businesses, allowing them to easily collaborate with their teams and integrate other apps into the platform. Let's delve further into Xero and explore its reporting features to gain a more thorough understanding of the software.
Xero offers a wide range of add-ons and integrations to help streamline and improve various aspects of your business. Here are some of the best Xero add-ons across different categories:
Invoicing and Payments:
Stripe: A popular payment gateway that allows you to accept credit card payments directly from your Xero invoices.
PayPal: A widely-used online payment platform that enables quick and secure payments directly from your invoices.
Expense Management:
Ramp: By far, the best expense management and corporate card tool available.
Expensify: A powerful expense management tool that simplifies expense reporting, receipt tracking, and reimbursement.
Receipt Bank (now Dext): Automates the process of capturing, storing, and organizing receipts and invoices, saving time on manual data entry.
CRM and Sales:
Insightly: A CRM platform that helps manage customer relationships, sales pipelines, and project tracking, integrating with Xero to keep financial data in sync.
Salesforce: A leading CRM software that can be integrated with Xero using third-party tools like Breadwinner or Workato for seamless data synchronization.


Inventory Management:
Unleashed: A robust inventory management system that helps track stock levels, sales, and purchases, with real-time integration to Xero.
DEAR Inventory: A comprehensive inventory management solution that streamlines order processing, manufacturing, and purchasing, integrating seamlessly with Xero.
E-commerce:
Shopify: A popular e-commerce platform that connects to Xero for automatic syncing of sales and inventory data.
WooCommerce: A widely-used e-commerce plugin for WordPress, which can be integrated with Xero using tools like Xeroom or Zapier.
Payroll and HR:
Gusto: A user-friendly payroll and HR platform that integrates with Xero to streamline payroll processing and compliance.
JustWorks: The perfect choice, if you need a PEO vs traditional payroll software.


These add-ons can help enhance the functionality of Xero, tailoring it to your business's specific needs and streamlining various processes. When choosing add-ons, it's essential to consider your business requirements and research each tool to ensure it's the best fit for your needs.
Reporting
Reporting is a fundamental element for comprehending the monetary wellbeing of your company. With Xero, you can generate comprehensive financial reports to gain insights into where your money is going and make informed decisions about future growth. The reporting dashboard provides real-time visibility into key performance indicators such as cash flow, profit & loss statements, balance sheets, and more. You can easily drill down into individual transactions or create custom reports tailored to specific needs.
We understand the importance of accurate financial reporting for small businesses looking to maximize their potential growth opportunities and minimize risk exposure through proper compliance strategies. That is why we offer our clients a full suite of services designed specifically around helping them get the most out of their accounting software investment with Xero at an affordable price point compared to hiring an in-house accountant or bookkeeper team member full time.
The Idea: At Accountingprose, we provide comprehensive small business accounting services that help our clients get the most out of their Xero investment. Our experienced team offers real-time visibility into key performance indicators through powerful reporting capabilities and third-party app integrations, making it easier than ever to track spending trends over time and maximize potential growth opportunities with minimal risk exposure.
Conclusion
By leveraging the power of Xero accounting software, you can revolutionize your small business and unlock its potential for growth. With its suite of features including invoicing, bank connections, expense management, multi-currency support and app integrations - all backed by powerful reporting capabilities - Xero is the perfect tool to help your business reach its fullest potential. Unlock the secrets to success with Xero today.
Take the hassle out of accounting and payroll for your small business with Accountingprose. Our services are designed to optimize processes, reduce costs, and ensure compliance so you can focus on growing your business.
3 min read
Enzo :

July 07, 2016
Special thanks to Seth Fineberg of AccountingWeb for the great interview about Xero Add-Ons and my role at Xerocon.
Read More