( read )
How to Hack Your Xero Chart of Accounts to Increase Profit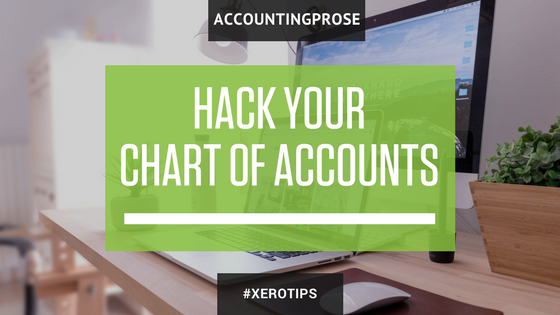 The Chart of Accounts is the backbone of your business and its financial statements. The Chart of Accounts is a listing of all accounts your organization has available to record your transactions in Xero. For example, every time you spend or receive money, that transaction is booked to an account such as sales income, rent expense, office supply expense, or payroll wages and eventually makes it way to your Profit and Loss or Balance Sheet (Learn how to Rock your Balance Sheet HERE). Your Xero account comes equipped with a stock Chart of Accounts, but it may not be right for you business. Thankfully, the Xero Chart of Accounts is very customizable and you can adjust it to fit your business needs.
What to Consider Before Setting up Your Chart of Accounts
Before you switch anything around, you should do a bit of homework and ask yourself a few questions:
What type of revenue do I have? Product Sales, Service Sales, or both? Do you have multiple types of products or services that you plan on tracking?
What type of expenses do I have? Do you have to purchase inventory to support your product sales? Do you have labor hours to track against your service sales? Be mindful to not get too granular as you may lose the essence of what you are trying to track. On the flip side, keeping your Chart of Accounts too simple will limit your visibility into the performance of the business.
Why is this Important? Let's pretend that you are a gym owner and need to track personal training income, supplement sales, group training, and apparel sales. If you want to see how each area of your business is performing, you will need to set up an Income Account for these areas. You will also want to set up a corresponding account in the Cost of Goods Sold/Cost of Sale in your Chart of Accounts. This will help to track the profitability of each department on the Income Statement, which can then be further analyzed.
For example, you may wish to look at the Gross Profit Margin for each department, to see if you are making or losing money in that area. If you are making money at a rate that aligns with industry benchmarks, you may want to double down on that effort. If you are losing money, you should investigate why and decide whether to correct the problem or ditch that department. Your business is ultimately an asset, and you should make sure that it works for you and not the other way around.
What type of entity have I formed? Are you a Sole Proprietor, LLC, S Corp, C Corp, or Partnership?
Why is this important? You have a lot of choice when it comes to setting up your business. You can quickly open up shop and choose to be a Sole Proprietor, you can create an LLC to protect your personal assets, or even incorporate to be able to bring on investors. The entity choice and the corresponding operating agreement will come in to play when setting up the equity accounts. Be sure that you keep this in mind at the outset.
Protip: Your financials need to tell a complete story about your business. Be sure that your Chart of Accounts supports your narrative or change it!
Where is the Chart of Accounts in Xero?
The Chart of Accounts can be found under "General Settings" in Xero.
What Types of Accounts Can I Have?
Balance Sheet

Banks
This includes any regular Bank Account (Checking and Savings), as well as Credit Card, Merchant Services (example: PayPal, Square, Stripe), and even Petty Cash.
How to be a Small Business Superhero: Use Xero's automatic bank feeds to pull in bank transactions for you.
Assets
Your business will have both Current and Non Current Assets on the Balance Sheet. Current Assets are those assets that will be used within one year and Non Current Assets will be used beyond that one year window. Your Balance Sheet presents assets in order of liquidity, with the most liquid assets at the top. A few examples of what you will see on the Balance Sheet are: Accounts Receivable, which is a listing of Sales Invoices that are due but not yet paid by your clients; Fixed Assets, which includes large purchases such as real estate, equipment and furniture over $2,500 each; Prepaid Expenses such as rent deposits or deposits with your attorney or other professional; and even Inventory, which are items you intend to sell to your clients.
How to be a Small Business Superhero: Be sure to add your Fixed Assets to Xero's Fixed Asset module. After a few minute's setup, Xero will be able to calculate your monthly depreciation for you, which you can then post throughout the entire year and better preparing you for your end of year tax filing! You'll quickly become your CPA's favorite client with these auto-calculations.
Liabilities
Liabilities are money that you owe to Banks/Lenders (Credit Cards and Lines of Credit), Investors (Loans), the State (Sales Sax), and to to your Vendors (Accounts Payable). Just like the assets on your Balance Sheet, you have both Current and Non Current Liabilities. Current Liabilities are due within one year and Non Current Liabilities are due more than a year from now. Current Liabilities populate first on the Balance Sheet as they are expected to be paid first.
How to be a Small Business Superhero: Be sure to separate the interest and principle on any loan payments. Principle will be booked against the loan account on the Balance Sheet, whereas interest will get booked to an Interest Expense account on the Income Statement (also called the Profit and Loss Statement). Make sure these two pieces of your loan payment are separated accordingly or you will overstate the expense or understate the loan balance. Your accountant will ask for loan statements at the end of the year, and if you've made a mistake in recording loan payments, it will get caught during this last cross check.
Equity
Equity accounts include Owner/Member Contributions, Owners/Member Draws, Additional Paid in Capital, Common Stock, Preferred Stock, and Retained Earnings. Your equity accounts will be determined by the type of entity you have formed. If you are an LLC or Sole Proprietor, your Owner/Member Contributions include any money you or a partner put into the business, such as start up capital. Owner/Member Draws are any funds you or a partner take out of the business to pay yourself. Don't forget that Owner/Member Draws do not affect your bottom line and only show up on the Balance sheet. Finally, Retained Earnings is the net revenue carried over from the prior year of business- there is no need to manually adjust this account as adjustments are made automatically by Xero.
Locked Accounts You may see a picture of a lock next to some accounts, which means they are locked and cannot be edited. Some of these accounts include Retained Earnings, Accounts Payable, and Accounts Receivable. These accounts are automatically calculated from net earnings, sales invoices, and purchase bills and therefore can not be changed manually.
How to be a Small Business Superhero: If you need to use business funds for personal expenses, try making a withdrawal via ACH or writing yourself a check and including "Draw" in the memo field. This will help your bookkeeper easily track your draws. Using your business card for a personal trip through the Dunkin' Donuts line may seem convenient, but transactions like this can be easily mistaken and misclassified as a business expense.
Income Statement

Revenue
Revenue is the money that you earn from regular business activity. Revenue includes Service Income, Product Income and even will include contra-accounts such as Discounts and Refunds and shows up on the Income Statement.
Protip: Usually Interest Income is not Revenue as it is not earned from regular business activity. You would not want to include this in Revenue, but rather "Other Income" so that it populates on the bottom of the Income Statement. The exception to this rule is if you generate Interest Income as part of your normal operations, like a lender would.
How to be a Small Business Superhero: It is a fantastic idea to separate revenue accounts by tax-type. Some cities may have varying tax types such as for food or liquor sales, on top of normal taxable product sales and non-taxable services. Organizing the revenue accounts on your Income Statement to align with your sales tax categories will make a sales tax audit go more smoothly and end more quickly. Win-win.
Expenses
Expenses are all the costs of running a business including direct costs and operating costs and are usually the largest account type due to category breakdown. Common categories include (but are not limited to) advertising, wages, meals and entertainment, rent, travel, office expenses, postage, and utilities.
How to be a Small Business Superhero: Include as much detail as you need, but don't go overboard. If you are too detailed, you may end up with diluted financial statements which don't help when it comes time to analyzing the performance of your business.
Example: Maybe you want to breakdown Marketing between Web Marketing and Print Marketing – but do you really need an account for every vendor? Heck no, this information belongs in your contact list! Try to find the balance between adding enough detail pertinent to your particular line of business, without creating more work for yourself.
FAQ
How Should I Organize My Chart of Accounts?
Your Chart of Accounts should paint a picture of the types of revenue and expenses associated with running your business. Accounts can be organized by the account "code" which is a series of numbers assigned to each account. When creating an account code numbering system, you want to make sure you leave yourself room to add and remove accounts as your business grows. This is why we advise against using smaller numbers like 1, 2, 3, 4.
As an Accountingprose client, you will see your accounts assigned a 5-digit code. This leaves plenty of room to rearrange accounts if your reporting needs to change. Here is the numbering system that we use:
10000 Assets
12000 Receivables
13000 Inventory
14000 Prepaids
15000 Fixed Assets (Property, Plant, and Equipment)
16000 Accumulated Depreciation (Contra Assets)
17000 Non Current Assets
18000 Intercompany Receivables
19000 Other Non Current Assets
20000 Liabilities
21000 Payables
22000 Accrued Compensation
23000 Other Accrued Expenses
25000 Accrued Taxes
27000 Long Term Debt
28000 Intercompany Payables
29000 Other Non Current Liabilities
30000 Equity
40000 Revenue
50000 Cost of Goods Sold
60000 Operating Expenses
99999 Suspense
Why Should I Adjust my Chart of Accounts?
Over the years, Accountingprose has created impressive industry-specific Chart of Accounts. However, there can be many reasons for wanting to make adjustments.
One common reason for creating additional accounts is adding a new line of revenue to your business. Along with this new line of revenue may be associated Cost of Goods Sold and/or Operating Expenses.
On the other side of this is removing an old line of revenue from your offerings, at which point you may choose to archive that and any associated accounts. This will not delete any of your data but simply mark the account as inactive (and yes, this can be undone!)
How Do I Add a New Account in the Xero Chart of Accounts?
There are four ways to add a new account:
Add an account in Xero (that's not a bank account)
From the Chart of Accounts page, click "Add New Account," Fill in the blanks, and click Save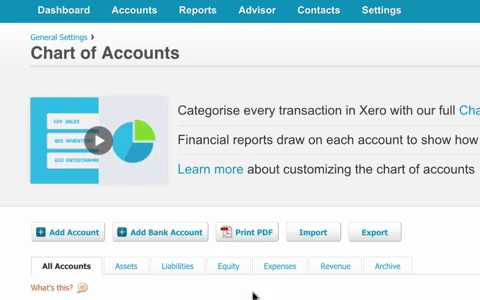 Add a Bank Account in Xero
From the Chart of Accounts page, click "Add Bank Account." Xero will first ask for the name of your bank to look for automatic bank feed availability. Simply follow the prompts on each page to add your new bank account.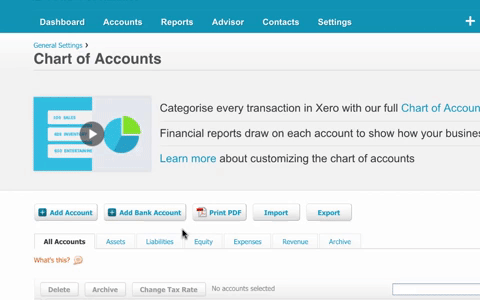 Import Chart of Accounts in Xero
You'll want to use this when starting a new Xero file if you already have a Chart of Accounts ready to go. Hit "Import" and choose the .csv file from the "Browse" button. You can also download a template to build a Chart of Accounts from scratch.
Export Chart of Accounts from Xero
If you want to make bulk edits to your existing Chart of Accounts, such as adding a 5-digit account code, simply click the Export button. This will export a .csv file of all your current accounts to your computer. Make the necessary edits and then use the Import feature above to update Xero.
Be careful! It's always good to save a copy of your current Chart of Accounts before editing with this option. This will ensure you have a neat copy if you accidentally make any edits you are not happy with.
What do the account options mean?
Here's a quick run-down of all the new account options:
Account Type: Here you'll find a drop-down list of the accounts we reviewed above. Choose the correct account type from the list.
Code: Choose a unique code for your account. See our recommended numeric codes above.
Name: Choose a short, specific name for the account such as Rent or Salaries.
Description: Here you can add more detail as to the purpose of the unique account. This box is optional.
Tax: Should Xero calculate tax on this account? For most accounts, this line will show Tax Exempt but you can program any number of tax rates in Xero.
Show on Dashboard Watchlist: This is a nifty feature that will display the account balance on your Dashboard in the top right. A great use of this feature is to add Loan or Line of Credit balances to your dashboard.
Show in Expense Claims: Do you use the Xero Expense Claims module to reimburse your employees? Check this box to allow employees to choose this account when putting in a claim. Popular accounts for this option are travel accounts such as meals and mileage.
Enable payments to this account: Click this box if you are going to use the account to make payments on bills. One such account might be Owners Contribution. You may mark a bill as paid with personal funds by checking this box for the Owners Contribution account.
I'm totally lost in Xero! Help!
That's why we're here. Let us do the heavy lifting so you can get back to doing what you love. Schedule a free consultation to speak with our team about getting your accounts in order.