( read )
How to sync Gusto and Zenefits using Pay Connect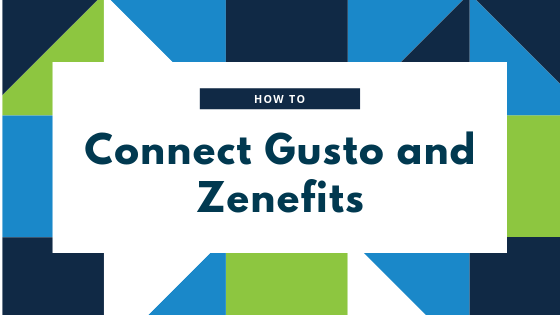 While we absolutely love using Gusto, occasionally we meet clients who use Zenefits and wish to keep managing their employees and benefits in that program. Luckily for us, our clients can keep using Zenefits and we can connect Gusto to process the payroll without adding any stress. When we began researching how to connect these two apps together, we quickly realized that the help docs provided didn't give us exactly what we needed. As novice users of Zenefits, we really wanted a resource that would give us all of the details we needed in one place. So, rather than having you pore through help articles or reach out to customer support to sort through the sync, we put it all together here for you. :)
Let's get started...
---
Important Note:
Please read this update regarding the Gusto/Zenefits sync via Pay Connect. Zenefits has removed some of the automation and some work needs to be done manually now. Boo, Zenefits. On that note, just use Gusto... it's way easier and better.
---
What is Pay Connect?
Pay Connect allows companies to use Zenefits as their system of record for payroll and HR information by automating deductions, hiring, and employee management, all from the Zenefits Dashboard. It is a one-way connection that works by matching employees between Zenefits and Gusto. When changes are made to employee information in Zenefits, the connection makes these same changes in the payroll account,
By setting up Pay Connect, companies can significantly reduce the burden of manual entry for HR and payroll data and ensure accuracy between Zenefits and payroll.
By syncing payroll, companies can:
Use Zenefits as the system of record for all employee information.
Make changes in one system to ensure accuracy.
Ensure that employee information in payroll matches information in Zenefits.
Manage Deductions
For companies with synced payroll, Zenefits can automatically:
Manage and calculate deductions for Zenefits administered insurance coverage and fringe benefits like Commuter Benefits.
Set up benefits deductions in payroll for employees who transition from part-time to full time.
Ensure that that the current deductions amounts in payroll reflect the amounts in Zenefits.
Manage Employees
Companies with synced payroll can streamline the hiring process by using the sync to:
Automatically set up in payroll any new employees hired in Zenefits.
Manage the removal of employees from payroll when they're removed from Zenefits.
In order to sync Zenefits together, you first need to disconnect payroll within Zenefits. It is recommended that you only disconnect payroll when you are ready to make the switch to Gusto payroll and you have ample time (7-10 days) before the next pay run. If you do not give yourself enough time to transition to Gusto, you may miss a payroll or have to cut checks manually which is not ideal.
Once Zenefits payroll is disconnected, you will see the Pay Connect app on the Zenefits dashboard.
Click on the Pay Connect app and select Gusto from the list. Then, choose whether to set up payroll sync and have Zenefits automatically update Gusto, or set up Reports to make updates manually in payroll.
Recommended: To have Zenefits automatically update Gusto, choose Sync, then follow the instructions for adding a user in Gusto. Zenefits will receive an email, and follow up to complete the sync. For this option, make sure the account is fully complete, with all employees and information entered so that the sync can correctly match employees in Zenefits to employees in payroll.
To have Zenefits generate Payroll Reports which you can use to manually update payroll, choose Generate Reports and click Continue, then follow the instructions to set up Payroll Reports. Learn more about using Payroll Reports to update payroll.
Initial Set Up
During initial setup, Zenefits reads the information in the payroll account, and matches employees in payroll with the same employees in Zenefits.


Before setting up Pay Connect , be sure to follow this guide to ensure all your employees information will be synced successfully.
From that point on, changes made to employees' information will trigger a push of the updates to the employee's information in payroll account in order to keep both Zenefits and payroll synced.
If payroll is synced, all changes to information that will push to payroll should be made in
Zenefits, as the system of record, for two reasons:
Changes made directly in payroll will not be communicated back to Zenefits.
Zenefits cannot determine the cause or time of changes made directly in payroll.
What info syncs from Zenefits to Gusto?
| | | |
| --- | --- | --- |
| Employee Info | Transit Time | Notes |
| Deductions | 1-2 business days | 4 days before the check date, Zenefits will lock ability to change deductions. |
| Salary Info | 1-2 business days | |
| Address Change | 1-2 business days | |
| Name Change | 1-2 business days | Middle name doesn't sync |
| New Hires | 2 business days before the hire date entered in Zenefits | Onboarding for a new hire must be completed before the new hire begins so that information can be pushed. If onboarding isn't completed before the start date, the employee will need to be manually added to Gusto. |
| Termination | Up to 1 business day | |
| Time and attendance | 1-2 business days | |
| Employment Status (full or part time) | Does not sync | |
| Work locations | Does not sync | |
| Workers Compensation Codes | Does not sync | |
| Departments | Does not sync | |
| Marital Status | Does not sync | |
| Reports to (aka Manager) | Does not sync | |
| Garnishments (child support) | Does not sync | |
| Job Title | Does not sync | |
| Phone Number | Does not sync | |
| Gender | Does not sync | |
| Email | Does not sync | |
| Middle Name | Does not sync | |
| Stipend amounts | Does not sync | |
| | | |
| --- | --- | --- |
| Employer Info | Transit Time | Notes |
| Company Name | Does not sync | |
| Bank Info | Does not sync | |
| Addresses | Does not sync | |
| EIN | Does not sync | |
| State Tax ID | Does not sync | |
Mapping Deductions
Deduction code mapping is the process of linking benefits information from Zenefits with benefits information in your payroll account. Mapping uses unique deduction codes that unambiguously identify each type of benefit. When you assign the same code to the same information in both systems, Zenefits knows which deductions to update, and when.
Once you've assigned these codes to link benefits information, when employees make changes to their benefits in Zenefits, Zenefits will automatically push these updates to the corresponding deductions in payroll, and the payroll system will adjust employees' paychecks accordingly.
You can map your deductions through the Settings option in the Pay Connect app. You'll need to pair each benefit on the left side to a deduction code in payroll on the right side. You can select the appropriate deduction codes using the dropdown menus.
If there are any codes you are no longer using, be sure to remove them.
**When finished, make sure to zero out or remove any previous codes that aren't mapped to Zenefits.
Recommended Deduction Code Names
Benefit Type

Deduction Code Name

Medical Insurance

Medical Pre-Tax

Dental Insurance

Dental Pre-Tax

Vision Insurance

Vision Pre-Tax

Health Savings Account (HSA)

HSA Pre-Tax

Flexible Savings Account (FSA)

FSA Pre-Tax

401(k)

401(k)

Roth 401(k)

Roth 401(k)

401(k) Employer Match

401(k) ER Match

Life Insurance

Life Post-Tax

Long Term Disability (LTD)

LTD Post-Tax

Short Term Disability (STD)

STD Post-Tax

Transit Commuter

Transit Pre-Tax

Transit Post-Tax

Parking Commuter

ParkingPre-Tax

Parking Post-Tax

Cancer Insurance

Cancer Insurance Post Tax

Accident Insurance

Accident Insurance Post Tax

Critical Illness Insurance

Critical Illness Insurance Post Tax

Hospital Indemnity Insurance

Hospital Indemnity Insurance Post Tax
What happens when you over or under deduct for benefits?
Zenefits will sync deductions to employee profiles in Gusto within 1-2 business days after the deduction has been entered in Zenefits. Zenefits keeps a running log of what deductions are expected vs what has occured, in the Audit Log Report. If Zenefits finds that benefits have been over or under deducted, they will automatically generate a deduction plan (pending deduction adjustment) that will correct the over or under collection.
You must approve the deduction plan for it to go into effect. Your decisions to approve or decline an adjustment only take effect once you click Apply Decisions. Prior to that, you can undo each decision, or Reset All to undo all pending decisions.
Once you click Apply Decisions, Zenefits will push these changes to synced payroll, Payroll Reports, or Zenefits Payroll for the next check date.
Zenefits will not make changes to the employee's current (normal) deductions until you make a decision on any pending adjustments.
It is important to note that Zenefits will provide different scenarios for how to handle the deduction correction.
Example Adjustment Scenario
Let's walk through an example:
An employee's normal per-paycheck deduction for Medical is $100. However, Zenefits determines that this employee was under-deducted by $150.
On the Deduction Adjustments page, there will be an entry for this employee in the Under-Deductions tab:

Employee A's medical deduction was under-deducted by $150.
Adjust deduction from $100 to $200 for 1 pay period, then $150 for 1 pay period?
Not Recommended: Manually Adjusting Payroll to Correct Under-deductions
Any time an under-deduction is detected, it is advised to create an adjustment plan that increases the individual deductions at twice the rate of the normal deduction. Should you prefer to resolve this with your payroll provider directly, or handle these discrepancies yourself, here's how:
First, take a look at the Deductions page (requires login) to find the total amount of the discrepancy.
Then, manually increase their deductions in payroll by the total amount.
Once they are caught up, readjust their deductions in payroll back to the normal amounts in Zenefits.
To avoid confusion between Zenefits and your payroll provider, make sure to let them (Zenefits) know if you plan to do this - by either contacting their Support or by disabling the option from their Deductions Adjustment page.
Manually Reimbursing Employees for Over-deductions
When an over-deduction is detected, it's suggested to make an adjustment plan that decreases the deductions at twice the rate of their typical deduction. Ultimately, the best way to deal with over-deductions is to immediately reimburse the impacted individual for their over payment. This can be done manually in your payroll account.
Should you end up deciding to reimburse those effected manually, don't forget to decline the plans from the Deductions Adjustment page.
You will then need to contact your payroll provider for help processing any reimbursements. Reimbursements for pre-tax deductions require more than just paying back the overage in the next payc period. You will need to adjust the preceding payroll to address for the jump in taxable wages and taxes - you'll need to get your payroll provider to help with this part.
---
So, now that you are a Gusto and Zenefits pro, you can get your accounts synced up in a snap. Need more help? Free to reach out to us and we will get you squared away.